Version - 1.0
Display your offer message in your joomla page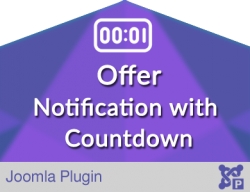 This is Simple plugins that allows you to display your offer message box inside page at any plugins position. With this message box users can show any types of offer or important message for a particular time. This message box is fully dynamic and user can highlighted respect of his requirement.
Product Page:- https://joomlakave.com/joomla-plugins/offer-notification-with-countdown
CORE FEATURES
Display Offer Message
Put your offer message and show it.
Offer Time Duration
Set offer time duration and show with offer message.
Offer Logo
Set offer logo with your message.
Custom Style
User can change message box color.
Close Offer Message
If anybody want he can close offer this message.
Style Match With Your Template
You have control to style-match with your Joomla template by background color.